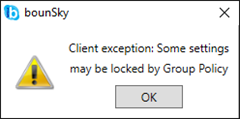 Security-conscious corporate environments often use Group Policy to lock the Manual Configuration and hard-code their own Internal and External values. This is typically a data-leak prevention exercise to stop anyone signing in to another organisation's instance of Lync or Skype for Business. It's known to really annoy on-site contract staff as it prevents them from accessing their employer's system.
The radio buttons disabled & the text greyed is an indication that this lock has been set: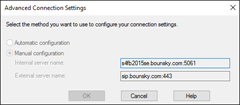 You will typically encounter this error when trying to bounce to a site where you've set manual that site with server settings that differ from the ones already hard-coded in the Registry.
The same error message will also display if the user doesn't have permissions to set or clear the "Automatically Start When I log on to Windows" value in the Registry. Strictly speaking this isn't necessarily a GPO issue, I realise.
When bounSky encounters either of these issues it will report it to the user the first time, but raise no further complaint if encountered again during that session.